---
NZBDonkey is an extension for Chrome and Firefox that makes it easier to download .nzb files. Premiumize.me is directly integrated into NZBDonkey, so you can send .nzb files directly to the Premiumize.me Cloud without downloading them first. Even if no .nzb file is provided, but only the file name, group, header and password, NZBDonkey can be used. All you have to do is select the relevant data and with a right click you can immediately search for the .nzb file, which is then sent directly to Premiumize.me.
---
Step 1
Install the NZBDonkey extension for Google Chrome or Mozilla Firefox.


---
Step 2
Once the installation is complete, the settings will open.
You now have to configure the addon to connect with Premiumize.me. Please enter the following into the form:
Target for the NZB file: send to premiumize.me
premiumize.me Customer ID: your customer id
premiumize.me PIN: your API Key
Click on Test Connection to test your settings.
If all settings are correct, you should see Successfully connected to Premiumize.me!.
You can now proceed with the configuration of NZBDonkey if you want or just start using it.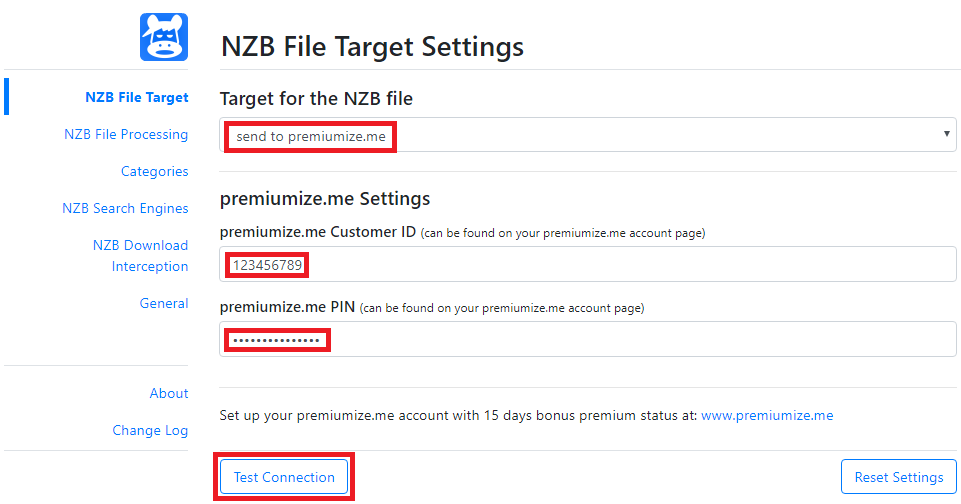 ---
This tutorial was created for version 0.7.2 on Google Chrome 78.0, so images in later versions may differ slightly, but the functionality should be the same. If not, please contact our customer service so that we can revise the tutorial and help you.
Chrome is a trademark of Google Inc. Use of this trademark is subject to Google Permissions.